San Francisco Times: New Psych Clinic Opens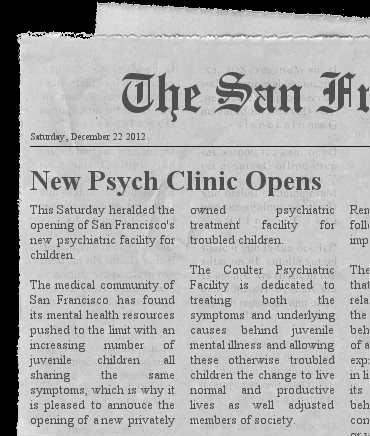 Saturday, December 22 2012.
New Psych Clinic Opens
This Saturday heralded the opening of San Francisco's new psychiatric facility for children.
The medical community of San Francisco has found its mental health resources pushed to the limit with an increasing number of juvenile children all sharing the same symptoms, which is why it is pleased to annouce the opening of a new privately owned psychiatric treatment facility for troubled children.
The Coulter Psychiatric Facility is dedicated to treating both the symptoms and underlying causes behind juvenile mental illness and allowing these otherwise troubled children the change to live normal and productive lives as well adjusted members of society.