Fires in Mission District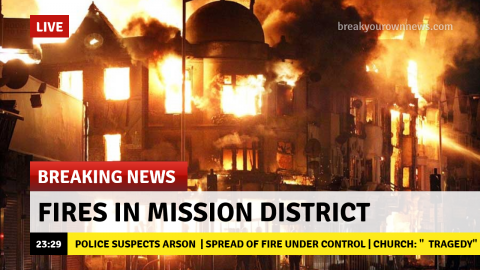 Several blocks of the Inner Mission District were evacuated last night, as fires that had erupted in nearby condemned blocks threatened to consume more San Franciscan dwellings. The blaze was contained before it could spread further, but the buildings it originated from have been mostly leveled.
Fire chief McLaughlin commented: "Although investigations are ongoing, we do not rule out arson as this point, and we ask anyone who has any leads with regards to this tragedy to report to their local law enforcement. "
The incinerated blocks were condemned and set to be demolished under the new inner city gentrification plans, and were known to house squatters, drug addicts and other less fortunate souls.
Police chief Redding commented on the scene: " We have found dozens of bodies between the rubble, but the search is ongoing. To our horror, we have found evidence of both barring of escape routes, arson, and certain runes spray painted on the doors. We urge anyone with information to come forward. "
The symbols the police chief mentioned bare an uncanny resemblance to the Seal of St. Gregory. On behalf of the congregation, PR-spokesperson Roy Dobbs commented: " We are shocked in the face of these tragic events, and horrified at the use of our Seal at the site of these atrocities. We will work with law enforcement, and local authorities and charities to care for those in need, and work toward healing the deep wounds these events have inflicted upon a peaceful and benevolent community. "