Police investigates Church involvement in Hospital massacre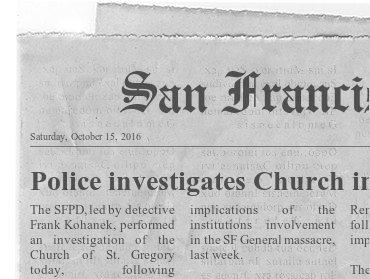 The SFPD, led by detective Frank Kohanek, performed an investigation of the Church of St. Gregory today, following implications of the institutions involvement in the SF General massacre, last week. Several teams of law enforcement officers were seen entering the building of the Gregorites, earlier today.
Detective Kohanek has this to say: "We have strong evidence that the Church has played a role in the recent atrocities in the city, culminating in the events at General. The SFPD is following up on any lead that can bring us closer to finding those responsible. "
The Church of St. Gregory responds to the allegations through spokesperson Roy Dobbs. "I assure you, we are as dedicated as the police - and the people of San Francisco - to apprehend and punish those behind wicked deeds. The law enforcement officers have our full cooperation during their investigation. If we can in any way expedite the investigation, we will certainly do so. "
After several hours, the police teams left the scene. The results of the investigation have not yet been made public. Kohanek states that it is too early to comment on the findings.